TimeMe - Time a command and compare with a target
This is an old driver based LedBorg script
We recommend using the new driver free based scripts for LedBorg.
The new driver free examples can be found
here
, the installation can be found
here
.
Ever wondered how you can time a command on your Raspberry Pi, or better yet how to make your
LedBorg
show you how long it took?
Well now you can with TimeMe.py, it calculates the time a command takes, compares it with your target and shows you the results visually: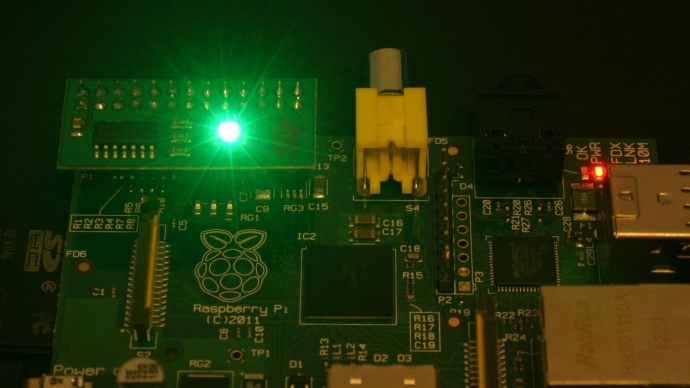 0%
to
22%
23%
to
44%
45%
to
67%
68%
to
89%
90%
to
110%
target :)
111%
to
132%
133%
to
155%
156%
to
177%
178%
or
more
Here's the code,
you can download the TimeMe script file as text here
Save the text file on your pi as TimeMe.py
Make the script executable using
chmod +x TimeMe.py
and run using
./TimeMe.py time_in_seconds command
e.g.
./TimeMe.py 0.15 du ~/

#!/usr/bin/env python
# coding: latin-1

# Import library functions we need
import time
import sys
import os

# Function to set the LedBorg colour
def SetColour(colour):
    LedBorg=open('/dev/ledborg','w')
    LedBorg.write(colour)
    LedBorg.close()

# Function to format a number of seconds into a human readable form
def FormatSeconds(seconds):
    if seconds >= 60.0:
        minutes = int(seconds / 60.0)
        seconds -= minutes * 60.0
        text = '%d:%06.3f' % (minutes, seconds)
    elif seconds < 1.0:
        text = '%03.0f ms' % (seconds * 1000.0)
    else:
        text = '%02.3f s' % (seconds)
    return text

# Set up our chart, from 0% of target to 200% of target
colours = ['002', '012', '022', '021', '020', '120', '220', '210', '200']
colourBusy = '101'

# Get user input
if len(sys.argv) > 2:
    try:
        target = float(sys.argv[1])
        printUsage = False
    except ValueError:
        # Not a valid number
        print '"%s" is not a number!' % (sys.argv[1])
        printUsage = True
else:
    printUsage = True

if printUsage:
    print 'Usage: %s target_in_seconds command' % (sys.argv[0])
else:
    # Form the command from parts
    command = ''
    for part in sys.argv[2:]:
        command += part + ' '
    # Start the timer
    SetColour(colourBusy)
    before = time.time()
    # Run the command
    os.system(command)
    # Stop the timer
    after = time.time()
    lapsed = after - before
    # Calculate the time statistics
    if target == 0:
        ratio = 0
    else:
        ratio = lapsed / target
    percentage = ratio * 100.0
    # Work out which colour to show
    index = (ratio / 2.0) * len(colours)
    if index >= len(colours):
        index = len(colours) - 1
    else:
        index = int(index)
    # Display the statistics
    SetColour(colours[index])
    print ''
    print 'Command: ' + command
    print 'Target: ' + FormatSeconds(target)
    print 'Actual: ' + FormatSeconds(lapsed)
    print 'Percentage: %03.2f%%' % (percentage)